ABOUT VERO LÓPEZ TREVIÑO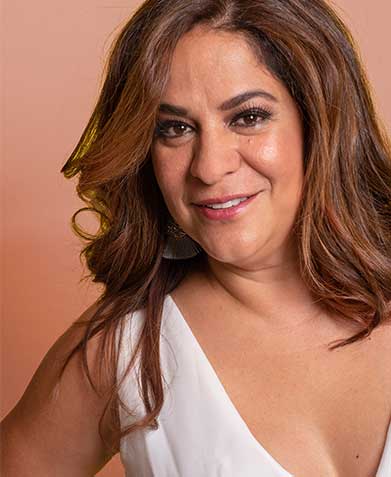 If you're looking for a professional, versatile, and available female voice, with a professional studio, to help you communicate your message the way you want it, you've come to the right place!
There are commercial spots and videos where there's something that just doesn't convince you. It doesn't connect, and you wonder "Why is that?" Maybe the voice wasn't right for the message, or maybe you thought the VO talent had a nice voice and could do the job. But if you're on this page, you realize that there's a big difference between a voice and a voice professional.
Surely you've thought about how to make sure your Spanish copy is written in real, idiomatic, clear Spanish for your Hispanic audiences. So how can you make sure the spot sounds right?
It can be done! As an expert in commercial voiceover and audio production, I'll work with you to make it happen.
I'm a voice talent, overdubbing actor and audiovisual production entrepreneur offering professional voiceover services to clients and brands in Mexico, the U.S. and Latin America, and anywhere else quality work in Spanish is needed.
I've helped many commercial spots sound fresh, natural, and full of personality. I've collaborated with thousands of clients to make their campaigns successful, and to help them reach the right ears, combining all the elements of professional production: a knowledgeable team, a first-rate studio, talent, and a great attitude.
I like perfection, so it's not enough for a script to be "well written". It also has to be recorded with the right tone and sound quality for the audience or region that receives your message.
My professional recording studio is bursting with commitment, enthusiasm and dedication. I manage a multicultural team of specialists in creative sessions, scriptwriting, casting services, production and post-production to meet the needs of the agencies, production companies and businesses who trust us to bring their content to life.
I enjoy belonging to an industry in which I've been the voice of countless brands, products, corporate and industrial videos, TV channels, ratio stations, personalities, narrations and videogames.
This passion for my work has distinguished the projects in which I've participated. I focus on transmitting exactly what my clients need quickly, accessibly and simply.
If you've come to this page, it's because you know that finding the voice for a project or brand is not an easy task. Especially if it requires a female voice in perfect neutral Spanish who also understands the richness of the language.
You know you need a friendly voice that can also be a corporate voice, maybe a convincing or natural voice, but one that can also have the conversational tone that connects naturally with emotion. It can be done!
As a voice talent and dubbing professional, I love to explore my vocal capacities to the limit. I dare to look for the sounds needed for different aspects of voiceover, so I know that together we can find what you're looking for.
So now you know that your voiceover challenges are my next goal!
If you're looking for a female voice to meet your needs for commercial VO, audio production, podcasts, promo, internal videos, client presentations, sound design and more, reach out to me for a custom demo, a sample with your copy or a quote. From first contact, you'll see truly professional work.
Let's make our first project together a mega-hit!